New York-Based Rapper Turns Climate Research Into Music
24 June 2021, by Ute Kreis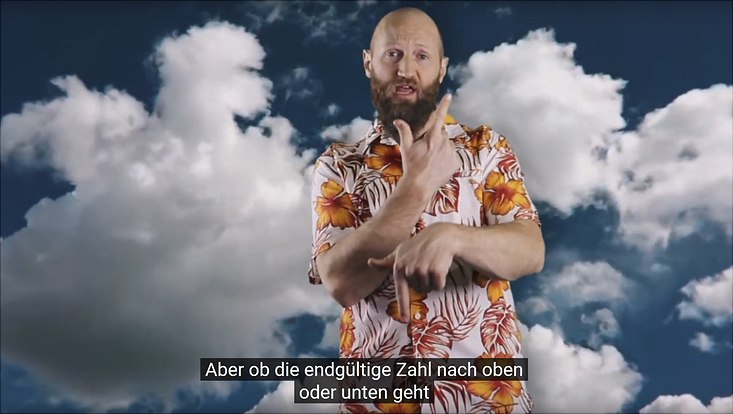 Photo: Baba Brinkmann
The rapper Baba Brinkman and Prof. Stefan Bühler from the Cluster of Excellence for climate research CLICCS have collaborated on a one-of-a-kind project: a music video with a Caribbean feeling and about how clouds shape our climate – and about whether the "little fluffy clouds" in the tropics will have a positive or negative effect on future climate.
Prof. Bühler, a rapper from New York and a German meteorology professor make for an unusual combination. Which of you found the other?
I'm a longtime fan of Baba Brinkman, someone who can turn complicated scientific topics into cool rap songs. That's why I contacted him back in 2018, when I was planning a summer school on cloud-climate feedbacks in connection with a big EU project. At first I had a live performance in mind, but that didn't work out. Instead he suggested that we could make a song together, and I was immediately thrilled with the idea. Thanks to his songs, I had already learned quite a bit about topics that were far away from my own research. So I was excited about trying to do the same thing myself.
For instance, the lyrics say: "Equilibrium Climate Sensitivity. That's the Holy Grail of the climate quest." Isn't that highly oversimplified?
Sure it's simple, but also accurate. If I had to choose just one number about our climate that I could know exactly, that would be the one! So the metaphor is very fitting. I wish I could say that we came up with it, but we're not the first to have called it that. Condensing down scientific ideas to an extent that they fit into song lyrics isn't particularly easy for us researchers. But it's worthwhile, also because you learn a great deal in the process.
I went into the project with an open mind and wanted to just see how it would go. So at the beginning I sent Baba a few scientific articles, which he used to come up with some initial ideas for the song. Then we had an intensive dialogue: he would make suggestions. I'd check whether the content was scientifically correct and then send back my own suggestions. To be honest, I seriously underestimated how much work it would take, for both of us. But I'd do it again in a heartbeat, simply because it was so much fun.
A typical "corona project?"
No, not really. We first got in touch before the pandemic, in December 2019. But since musicians couldn't give public performances for several months, he had time for other formats. But in all that time, Baba and I only saw each other once – on ZOOM. Instead, we sent each other countless mails, not just on the lyrics, but some with sound clips and, toward the end, with various stages of the video.
Let's come back to the video: "How you gonna plan for a three degree range?" – does science have to explore new avenues, and get cool, in order to achieve the changes that are so urgently needed?
Science already is cool! We just don't show it very often in public. I hope that the song and the video will be a lot of fun, both for our own community and for others. And of course, that the lyrics explain why cloud feedback effects are so important for our climate. In other words, it's an attempt to allow more people to join in.
I think you can listen to the lyrics at different levels, and everyone can take something away from them. Those who already know something about the subject will recognize current research topics. But the song is also meant to work for listeners with no background knowledge, and convey the most important ideas.
Finally, the most important question: In the video, why is Baba Brinkman wearing a Hawaiian shirt and his partner, Skillz FJ, playing a ukulele?
Since our research project especially concerns clouds, water vapor and circulation in the tropics, CLICCS researchers took part in an international measuring campaign near Barbados in January 2020. Using five research airplanes and four research ships, we spent an entire month analyzing the clouds in the region. From a scientific perspective, it was unprecedented – and apparently it also inspired the two musicians. Of course Hawaii and Fiji, where Skillz is from, are far away from Barbados, but the tropical feeling is a perfect fit for the song, if you ask me.
 To the video: 
The song is also is included in Baba Brinkman's latest album "Bright Future".
More information on the field campaign EUREC4A: