Wladimir Köppen Award
The Wladimir Köppen Award includes a cash component of 5,000 euros and is awarded by Universität Hamburg's Cluster of Excellence "Climate, Climatic Change, and Society" (CLICCS). Awarded for the twelfth time in 2021, its purpose is to recognize outstanding dissertations written by young researchers.
Award winner 2021: Isabell Haag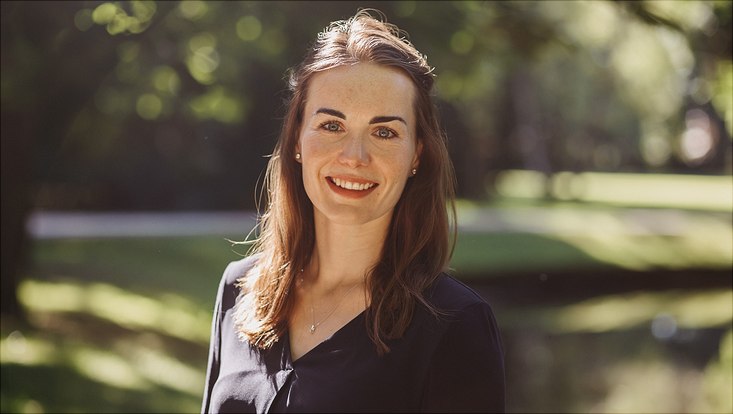 In recognition of her outstanding dissertation, Dr. Isabell Haag was awarded the 2021 Wladimir Köppen Prize by the Cluster of Excellence for climate research CLICCS. In her thesis, she combines various knowledge systems on climate change.
Global climate change can manifest quite differently from region to region. Further, there are no time series available for remote regions, since they contain few or no monitoring stations, while satellite-based and climate-model-based data can't offer a comprehensive picture. However, in some cases the local populace can offer information that has been largely overlooked.
In her thesis "Climate Trend Detection in a Data-Scarce Environment – A Transdisciplinary Study in the Pamir Mountains of Tajikistan," which she wrote at the University of Bayreuth, Isabell Haag combines available monitoring data with local knowledge, creating a basis that allows adaptation measures to be more effectively developed and implemented. Haag conducted field research in two villages located in the mountainous region of West Pamir, Tajikistan. Interviews and workshops with smallholders and shepherds provided her with detailed information on the weather and climate.
This revealed remarkable differences between perceptions of climate change in the local villages in comparison to data gleaned from time series, climate models and satellite imagery. Consequently, local knowledge can substantially improve the available data and is a prerequisite for arriving at the best possible climate change adaptation strategies. On the basis of her findings, Haag developed an overarching concept for how transdisciplinary approaches can be integrated into climate research, and one which provides guidelines for future projects.
"I'm very happy to see such a clearly transdisciplinary dissertation honored with the Wladimir Köppen Prize," says Prof. Anita Engels, Speaker of the Cluster of Excellence CLICCS. "I wish to offer Dr. Isabell Haag my heartfelt congratulations on her extraordinary achievement."