Wladimir Köppen Award
The Wladimir Köppen Award includes a cash component of 5,000 euros and is awarded by Universität Hamburg's Cluster of Excellence "Climate, Climatic Change, and Society" (CLICCS). Awarded for the twelfth time in 2021, its purpose is to recognize outstanding dissertations written by young researchers.
Award winners 2022: Dr. Miriam Seifert and Dr. Luisa von Albedyll

Two researchers have been awarded the 2022 Wladimir Köppen Prize for their outstanding dissertations: marine biologist Dr. Miriam Seifert and environmental physicist Dr. Luisa von Albedyll. They wrote their dissertations at the University of Bremen and the Alfred Wegener Institute, Helmholtz Centre for Polar and Marine Research.
"I'm very pleased to award these two high-caliber works. Both add to our understanding of dynamic processes and developments in the ocean – and help to more accurately predict the impacts of climate change," says CLICCS Speaker Prof. Johanna Baehr. "My heartfelt congratulations go to both young researchers."
Phytoplankton: Climate change will impact the biological carbon pump and marine food webs

Climate change is affecting the living conditions in the ocean, and with them, the habitats of many species. Some can rapidly adapt and thrive, while others are more sensitive, which can limit their distribution. Using computer simulations and an ocean model, Miriam Seifert investigated how tiny algae are responding: Due to the rising concentrations of carbon dioxide in the atmosphere, seawater is becoming warmer and more acidic; further, there are now fewer nutrients in the topmost meters of the ocean, where the algae grow. In order to flourish, some phytoplankton species have shifted the locations of their preferred areas. At the same time, these changed conditions are affecting overall phytoplankton productivity – including the tiny organisms' role in connection with what is known as the biological carbon pump, which transports carbon dioxide from the atmosphere to the ocean's depths, where it remains "stored" for extended periods. Through photosynthesis, the phytoplankton absorb carbon dioxide from the air and convert it into organic carbon compounds. By doing so, they not only fix carbon; they also provide the basis for marine food webs.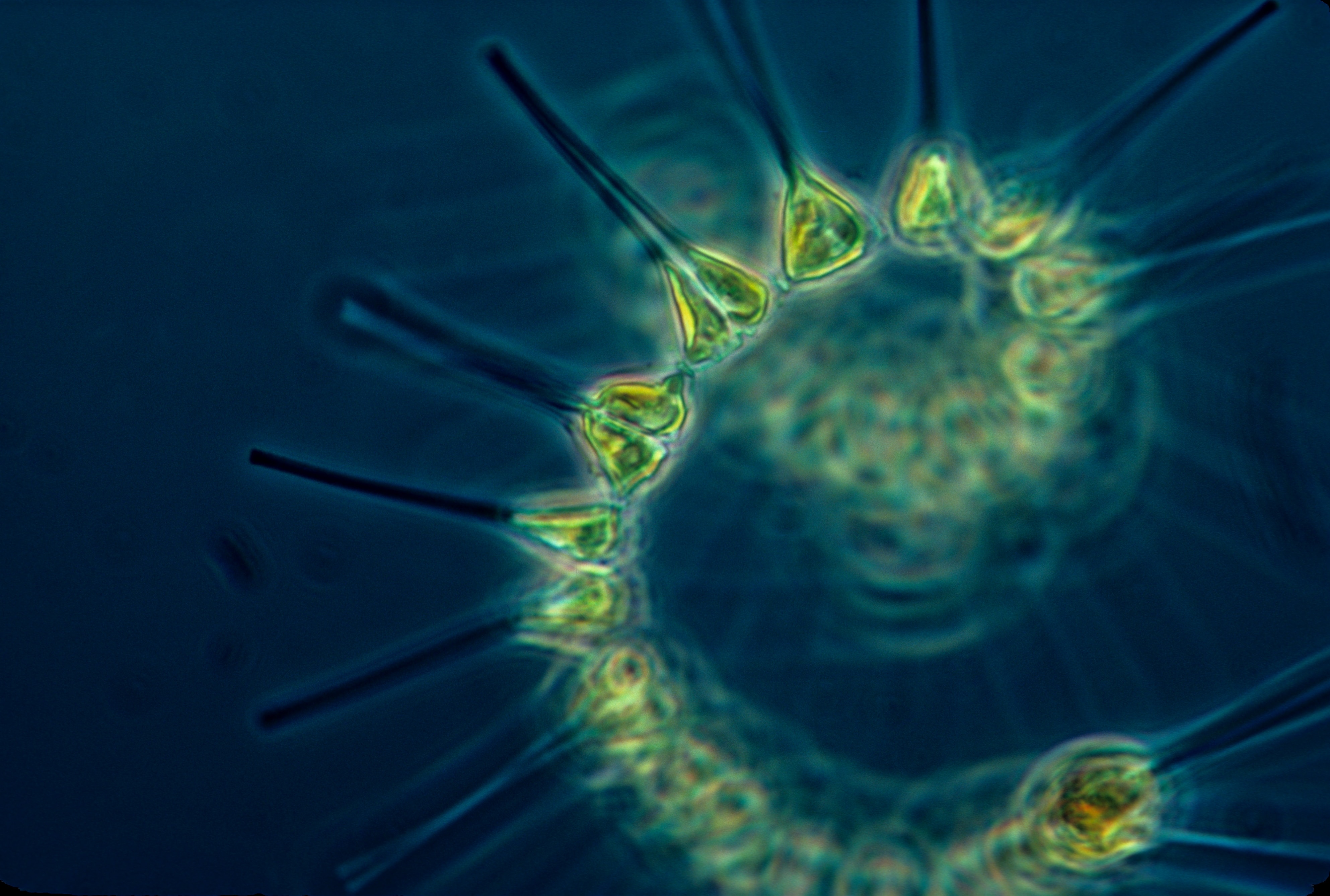 In order to gauge how phytoplankton growth could develop in the future, Seifert reviewed and analyzed more than 3,000 experimental studies on how various stress factors and the interactions between them affect phytoplankton. She then fed the results into a computational ocean model that allowed her to simulate biological processes and material flows in the ocean. In particular, she considered the influences of ocean acidification, including how it counteracts the growth-conducive effects of warmer waters and more available light.
Seifert determined that the consequences of simultaneously manifesting environmental changes in the Southern Ocean are particularly dramatic: High CO2 concentrations are producing negative impacts on phytoplankton in the polar regions, with one group of single-celled algae proving to be particularly susceptible. In addition, CO2-related effects are setting off a range of feedback processes, with serious ramifications for marine food webs and the efficacy of the biological carbon pump.
Dynamic deformations: How ice thickness is changing in the Arctic Ocean

The sea ice of the Arctic Ocean is considered to be a pivotal element in Earth's climate system. In this regard, we are currently witnessing a fundamental change from year-round ice cover to ice-free summers – with repercussions for the global climate. Ice thickness is an essential aspect in this regard, as it influences important processes in the Arctic climate system. Over the past 60 years, mean ice thickness has been more than halved. The sea ice is constantly in motion – driven by winds and ocean currents, it moves, changing its thickness through freezing and melting, but also through collisions and breakups. Polar researcher Luisa von Albedyll analyzed how these processes influence sea-ice thickness.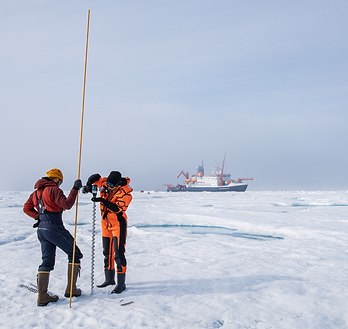 In particular, she took a closer look at the dynamic changes produced by deformation: When two ice floes collide and one slides over the other ("rafting"), creating what are known as pressure ridges, the sea ice becomes thicker. But when they break up, patches of open water are the result – and the ice becomes thinner. In winter, new ice can more readily form in these patches, since there is no longer an insulating ice layer in the way. In her dissertation, von Albedyll explored the role of dynamic thickness changes for the Arctic sea ice. Given that thinner ice breaks more easily and is more mobile, the increasingly thin Arctic sea ice could form more leads (cracks) and thick ridges. Consequently, dynamic growth could become more important for Arctic sea-ice thickness.
In her research, the physicist chiefly relied on data from satellites and aerial surveys. As part of the unprecedented international expedition MOSAiC (2019/2020), during which the Research Vessel Polarstern drifted along with an ice floe for an entire year, she took thickness readings on the floe itself, and from on board a helicopter using specially designed equipment. In the waters north of Greenland, she investigated changes in the form, structure and thickness of the ice during the closing of a so-called polynya – an extensive opening in the sea ice. Her findings confirm the importance of dynamic sea-ice thickness growth for the sea ice in winter.
Luisa von Albedyll shows that the deformation indicated by satellite data realistically represents sea-ice dynamics. Accordingly, the extent to which the ice thickness will increase or decrease can be estimated at the regional level. On the basis of these findings, sea-ice models and scenarios used to predict Arctic climate change can be made more accurate. As such, they offer valuable information for decision-makers in the spheres of politics, business, and environmental protection.