Healthy Diets Can Preserve Biodiversity
23 March 2022, by Stephanie Janssen
Photo: Unsplash/ Joel Vodell
Plant-based diets mean less land is needed for agriculture. In a new study, Dr. Livia Rasche from Universität Hamburg's Cluster of Excellence for climate research CLICCS shows that a switch to such diets could stop the loss of biodiversity.
Around the globe, there are 35 biodiversity hotspots: regions where the species diversity is especially high – and especially at risk. For example, every hotspot is home to between 1,500 and 15,000 plant species not found anywhere else. At the same time, each of these regions has already lost at least 70 percent of its native vegetation to land use, and the number is climbing. Because the amount of land used for agriculture continues to expand, the remaining untouched areas around the world are now in jeopardy. A team led by Dr. Livia Rasche has now shown how a plant-based diet combined with more effective agricultural methods could theoretically help preserve these remaining areas of unspoiled nature.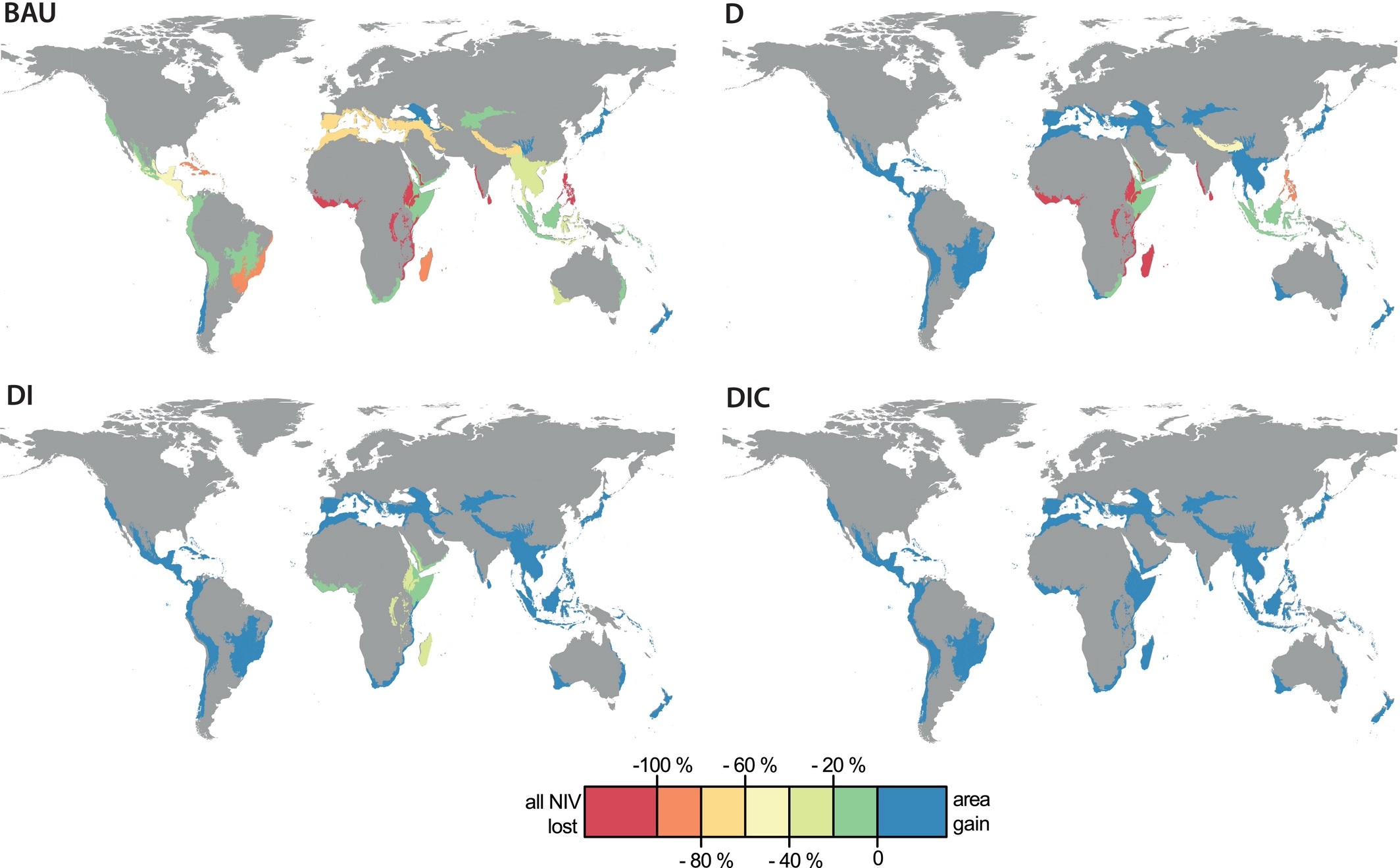 The study, which was just released in the journal Global Ecology and Biogeography, explores a range of scenarios. Its conclusion: if the transition to primarily plant-based foods could be achieved, the remaining untouched areas could be completely preserved in at least 16 hotspots through 2050. In contrast, if there were no changes to diets or agricultural methods, these areas could be preserved in only six hotspots, while between five and ten would lose all of their virgin land to agriculture.
For the study, the team combined data on crop yields and climate with information on eating habits, population growth and incomes. On this basis, for each hotspot they calculated the extent to which agricultural production could meet the population's needs by 2050 if the farming methods remained unchanged but people made healthier food choices. In consideration of the UN's Sustainable Development Goals (SDGs), a healthy diet is defined as consisting of 2,500 calories on average and 80 to 90 percent plant-based ingredients.
The team was surprised to find that, in five hotspots, the situation would actually deteriorate with healthy food choices. "In these regions, the population's basic diet often fails to even satisfy the 2,500-calorie minimum," explains Rasche, a geoecologist. "At the same time, the population will most likely experience significant growth there. As a result, healthy diets would require even more farmland – instead of reducing the amount of cultivated land, as they would in industrialized countries now characterized by meat-based diets." However, if crop yields were optimally enhanced with the aid of fertilizer and irrigation, and if there were a simultaneous shift in focus to higher-calorie crops, all untouched areas could be preserved here, too.
"Our study shows the maximum potential. In reality, the solution will surely lie somewhere in between," says Rasche. "But changing our diets would offer three major benefits at once: improving our own health, conserving our planet's resources, and preserving the diversity of flora and fauna. In short, it would allow us to protect our vital natural resources."