Political scientist Dr. Jan Wilkens on the Climate Change Conference
"In All Things, We Have to Bear Justice in Mind"
4 November 2022, by Stephanie Janssen
Photo: UN/COP27
From 6 - 18 November the COP27 takes place in Sharm el-Sheikh, Egypt
This year, the 27th Climate Change Conference will be held in Egypt. Dr. Jan Wilkens from Universität Hamburg's Cluster of Excellence for climate research, CLICCS, will travel to Sharm El Sheikh for the COP27. In the following interview, the expert on climate policy management and climate justice discusses historical responsibility and Egypt as a problematic host country.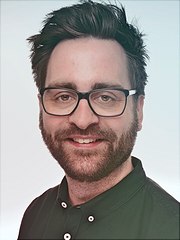 Dr. Wilkens, global emissions are on the rise, even though, according to the latest IPCC report, they need to be cut in half by 2030. At the same time, the current geopolitical situation doesn't exactly give grounds for optimism when it comes to international negotiations. Will this year's COP be especially challenging?
Absolutely. Because of Russia's war of aggression on Ukraine, topics like the food crisis and energy security are at the top of the agenda, worldwide. Of course, they're also connected to the climate crisis. The question is how, despite the current situation, especially the dominant countries can keep the climate high on the agenda. The USA's statements on climate financing have been very reserved. Further, the US$ 100 billion that especially Western donor countries had promised to hard-hit regions still haven't materialized.
The goal of this year's Climate Change Conference is to be an "implementation COP." As such, the focus will be less on new targets, but on how targets and measures already agreed upon can actually be put into practice. In addition, the parties will review how successfully individual countries have actually lived up to their promises.
Besides implementation, the COP will mainly focus on climate justice and technological solutions. And climate justice mostly has to do with money. Those countries that are the heaviest CO2 emitters agree, for instance, to introduce climate impact adaptation measures, or to invest in renewable energies in the Global South. What is needed here the most?
In all things, we have to bear justice in mind from the outset.  Here, too, the real issue is often financial support. We need a type of financing that can be made available to at-risk regions of the Global South without any major hurdles. Financial aid that has already been promised has to be delivered. In addition, much of the money promised actually consists of loans, which lead to more debt. Simply put: as a result, those groups that are hardest hit and are least capable of improving their situation are kept in a dependent state, which worsens inequalities. Accordingly, these loans should be replaced by financial aid. But to date, the countries of the Global North still haven't adequately transformed their historical responsibility into practical solutions.
True climate justice is closely tied to the concept of "degrowth," that is, to an end of traditional capitalism. How seriously can industrialized countries' promises be taken when they all still cling to the goal of economic growth?
All of the major countries negotiating here still cling to the growth concept. This can be seen in their faith in using innovation and technological solutions to reduce emissions without changing how we do business. Personally, I'm not convinced. On a finite planet, we have to limit the consumption of natural resources. And even technological solutions will require raw materials like rare-earth elements.
 
In particular, constantly growing consumption runs the risk of further reinforcing existing inequalities. The Global North became rich and powerful on the basis of fossil-powered growth. At the same time, many countries of the Global South, including those with rich natural resources, continue to face the challenge of simultaneously addressing climate protection, climate adaption, poverty and prosperity.
Your own research focuses on climate policy and its management in the African and Arab Mediterranean. Do you see any problem with Egypt being the host country?
It's important that climate conferences don't just take place in the Global North. At the same time, analyses have shown that the civil society is essential to how well climate targets are regionally and locally implemented. But in authoritarian Egypt, people are kept from participating. Due to formalities, NGOs aren't allowed to participate, public protests are shut down, and the government punishes resistance of any kind. Important activists are sitting in jail. In addition, Sharm El Sheikh is a luxury vacation spot far from Cairo, which means many Egyptian citizens simply can't afford to travel or stay there. As such, access is made more difficult at various levels. But this is nothing new. At past COPs, the choice of host country, venue or limited access has also created obstacles.
Even if all the countries lived up to their climate pledges – without technological solutions for removing CO2 from the air and storing it, it won't be possible to meet key temperature goals. Should the participating countries make massive investments in research?
They already are. Many countries consider this to be a future market and want to be well-positioned in it. CO2 removal is an important tool, but once again, the political and social context is important. For example, these technologies often need to be built on huge areas of land. Major corporations that have built their past success on fossil fuels are now buying up land in Europe, but also in African countries, so as to secure a good strategic position.

By placing our hopes in technological solutions, we also run the risk of taking no meaningful action and instead putting off real changes until tomorrow. This allows us to announce new climate targets that sound impressive. But in fact, there's no technology that could even come close to meeting these targets. On the contrary – according to the Climate Action Tracker, we're currently headed for a world that is 2.7 degrees Celsius warmer by 2100.
Contact
Dr. Jan Wilkens
Centrum für Erdsystemforschung und Nachhaltigkeit (CEN)
Exzellenzcluster "Climate, Climatic Change, and Society" (CLICCS)
Universität Hamburg
Tel.: +49 40 42838-7784
E-Mail: Jan.Wilkens@uni-hamburg.de
Stephanie Janssen
Öffentlichkeitsarbeit / Outreach
Centrum für Erdsystemforschung und Nachhaltigkeit (CEN)
Exzellenzcluster "Climate, Climatic Change, and Society" (CLICCS)
Universität Hamburg
+49 40 42838 7596
stephanie.janssen@uni-hamburg.de