Stable harvests despite climate change? – It's possible, thanks to helpful soil bacteria
9 August 2023, by Ute Kreis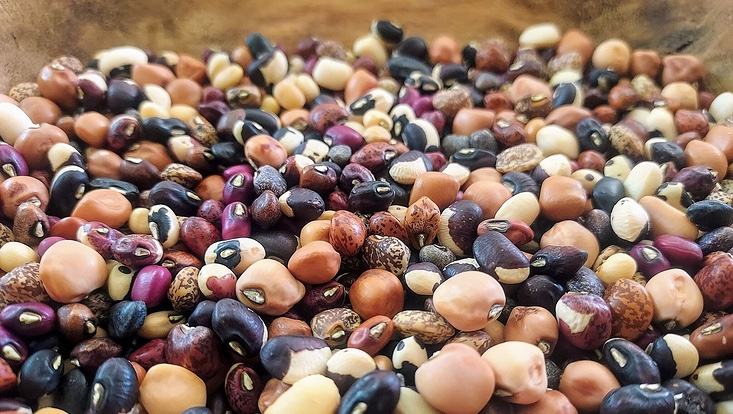 Photo: Roemj9999, CC BY-SA 4.0, via Wikimedia Commons
Legumes are an important food and protein source – even under adverse climatic conditions.
Rhizobia on the roots of legumes, i.e., beans, peas and lentils, make nitrogen from the atmosphere available as an additional source of nutrients. In this regard, some types of bacteria are more efficient than others and can help ensure good harvests even under the harshest conditions. Could this also form the basis for a climate change adaptation strategy? Together with colleagues from Bremen and Windhoek, CLICCS experts conducted field tests in Namibia and used their findings to make projections for the future.
The hardy cowpea is an important food source and feed plant used in broad expanses of Sub-Saharan Africa. Even in the face of drought and high temperatures, it thrives – and is especially important for smaller farms. This may also hold potential for the future, when climate change will likely make dry conditions and high temperatures more frequent: "The key aspect is that the ability to fix atmospheric nitrogen can be further enhanced by adding more efficient bacterial cultures to the seed," reports sustainability and climate researcher Dr. Livia Rasche. The procedure is simple and relatively inexpensive. But until recently, there was no available data on whether – and under which conditions – using it could be a sound plan for the future.
According to the study, harvests can as much as double when cowpea seeds are sown together with the more efficient bacteria. This was shown in field experiments that the experts conducted on-site to yield the initial data for their computational models. Yet in extremely dry years, the additional yield is closer to 20 percent, not 100 percent. According to climate models, these especially hot and dry years will become far more frequent after 2080 – which means the added benefit would essentially be negated by the impacts of climate change. But in the near future (2030 – 2050), seeds treated with a more efficient bacterial strain could help to boost harvests, while also keeping them stable despite adverse climatic conditions.
"The study isn't just of scientific interest; it can also be an important tool for changing people's minds," Rasche explains. This is also due in part to the comparatively good and diverse database used: "In our model-based simulations, we also used on-site weather data, which we combined with soil readings on, for instance, moisture and the amount of stored carbon, an important indicator of general soil quality and fertility."
The acceptance would seem to be there. As an accompanying survey conducted with corresponding interest groups revealed: If it were proven to increase harvests and came at a low additional price, nearly all respondents claimed they would be willing to use the new approach. "For soybeans, adding bacteria to the seeds is already standard practice on the market," says Rasche. State-funded and other incentive programs could also help to establish the method and improve food security.
Dr. Livia Rasche is a geo-ecologist at the University of Hohenheim. She worked at Universität Hamburg until May 2023 and is currently an affiliated member of its Cluster of Excellence for climate research, CLICCS. In addition to the Universities of Bremen and Windhoek, soil experts from CLICCS contributed to the study. The project received funding from the BMBF project TOPSOIL and from the DAAD.