CLICCS welcomes the new colleagues in the synthesis project
Which climate futures are possible and which are plausible?
4 November 2019, by Julika Doerffer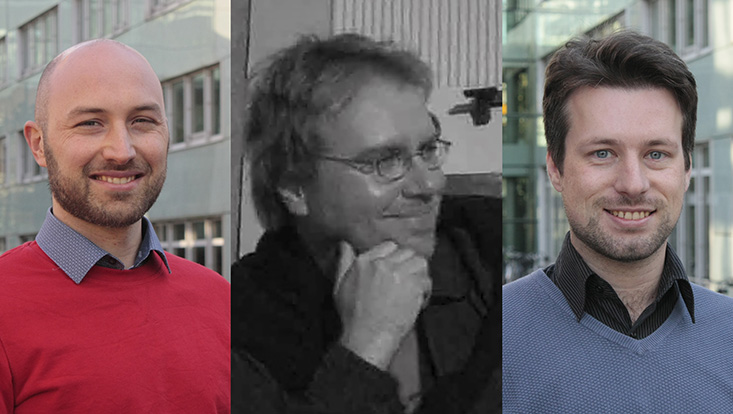 Photo: UHH/CLICCS
Christopher Hedemann, Markus Schulz and Jan Petzold are the new colleagues in the CLICCS synthesis project.
Since the beginning of October, Christopher Hedemann, Jan Petzold and Markus Schulz have started preparing the first "Hamburg Climate Futures Outlook". In this report, the three experts will seek answers to the CLICCS central research question: Which climate futures are possible and which are plausible? CLICCS scientists from diverse disciplinary backgrounds will contribute to the development of these future climate scenarios.
"The strong interdiscplinary nature of the project is crucial. Even if the boundaries of climate change are determined by physical laws, social and political dynamics will decide how our climate future unfolds," says Christopher Hedemann, an expert in the evaluation of climate model simulations. The report is not only concerned with how a changing climate will influence society, but also how a changing society could rise to the challenges it faces and in turn influence the climate.
"The expertise and research results from CLICCS will be prepared in such a way as to speak not only to the scientific community but also to the political sphere", says Jan Petzold, who was previously part of the task force responsible for the newly published IPCC Special Report on the Ocean and Cryosphere in a Changing Climate. Markus Schulz, a social science expert in Futures research says: "The Hamburg Exzellenzcluster offers the potential to discover new, future-oriented research areas. We will also be able to deliver a decisive contribution to the very latest debates concerning the climate crisis, and to the profound changes facing many aspects of our society."
CLICCS welcomes Christopher, Jan and Markus: we look forward to working with you!
The first "Hamburg Climate Futures Outlook" will appear in 2020.
Contact details
---