Energy Transitions Made in Africa
How African countries are making the change to a climate friendlier and fairer economy
30 July 2020, by Christina Krätzig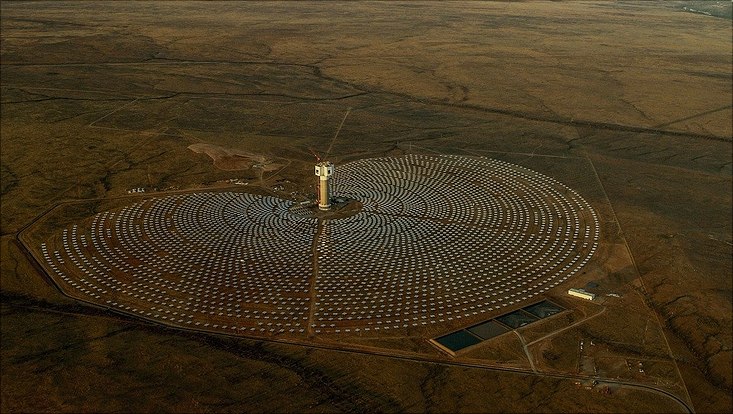 Photo: Pixabay CC0
The CST (concentrated solar power) facility Khi Solar One in the Northern Cape province is one of the largest solar energy plants in South Africa.
Energy poverty, power outages, deforestation – images like this shape our idea of energy issues in Africa. However, in reality renewable energies are booming there. How are energy transitions progressing on the African continent – and how fair are they? A team of researchers led by the newly appointed Junior Professor Franziska Müller has recently published a comparative study on the African energy transition. Prof. Müller will continue to work closely with colleagues at the Cluster of Excellence for Climate Research CLICCS in the future.
"Africa's demand for energy is growing. Economic growth, consumer needs, tourism – all these factors have made a switch to innovative technologies essential. But what political course can best achieve this?" asks Prof. Franziska Müller. Together with her research team at Universität Hamburg and the University of Kassel, the political scientist has analyzed the energy policies of 34 African states. Their findings show: every country has its own approach to the energy transition. More and more countries have implemented solar technologies or green funds. But: social and ecological equality still need to be improved.
Every country has its own approach
Seven states, including South Africa and Rwanda, are leading the way when it comes to energy policies for the future. Their programs are role models of good governance for other countries in the Global South.
Perhaps surprisingly, South Africa, one of the world's largest emitters of CO2, is now pursuing an energy transition. At the moment, its electricity demands are still met by coal, but this contributes significantly to health problems and poses a threat to the global climate. Now an innovative auction-based program, in which energy companies can place bids for construction projects and in return create jobs and implement education programs, is introducing solar and wind energy plants across the country and driving technology transfer. As a result, plans for two new nuclear power plants have now been scrapped; further, the new green electricity is cheaper than that produced by outdated coal-fired power plants.
In turn, Rwanda's national energy policy combines a variety of political instruments. The country is now exploring microcredits, clean-cooking projects, the use of biofuels, and promoting female expertise in the area of green technologies. Green funds are aimed at investors in the solar and water sectors, while fair energy prices guarantee that the lights don't go out, even when incomes fluctuate.
Political energy transition or green capital investment?
In other countries, social equality plays a less prominent role. Like in Zambia, home to 17 million people and famous for its Victoria Falls. To date, several hydropower plants located along the Zambezi River have produced nearly all the country's electricity. However, they are now in general disrepair and the state energy supplier is on the verge of bankruptcy. Energy poverty is a major social problem for both the growing middle class in the capital, Lusaka, and for those living in rural areas. At the same time, energy policies are oriented first and foremost on foreign investors. For example, energy auctions were handed over to a Scandinavian business consultancy and a British attorney's office. Participation for the masses? Think again!
On the other hand, the new "Beyond the Grid Fund Zambia" offers a ray of hope. It ensures that individual villages receive microcredits allowing them to purchase their own solar energy systems, and by doing so, to become independent electricity producers.
"It's essential, in view of the global climate crisis, to directly and rapidly implement renewable energies," explains Prof. Müller. "But equality is also an important factor. Otherwise there is a risk of reverting back to colonial dependency."
The study "Is green a Pan-African colour? Mapping African renewable energy policies and transitions in 34 countries" by Franziska Müller, Simone Claar, Manuel Neumann und Carsten Elsner was recently published in the journal Energy Research & Social Science.
---